Pearl Jam Raises $11 Million to Benefit Seattle's Homeless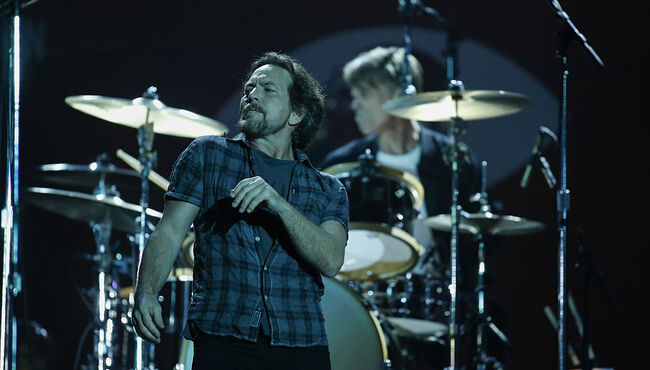 Pearl Jam has spent much of 2018 encouraging its fans to donate to help fight homelessness in the Seattle area.
The band's efforts culminate this week with two sold-out "Home Shows" at Seattle's Safeco Field.
As of Wednesday night's show, the band had already raised $11 million dollars to hopefully get housing for people in-need in the area, reports Q13 Fox TV. The next show is Friday.
And that $11 million isn't just due to ticket and merchandise sales and fan donations. Reports say 140 local businesses are donating 10 percent or more from sales this week to the homeless problem.
Seattle has the third largest homeless population in the country.
One fan told Q13 that he was homeless when he arrived in Seattle. He said it was emotional seeing how the community rallied around the cause.
The band has long been socially and politically active. It's lone release of new music this year, a song called "Can't Deny Me," refers to the U.S.'s policies on immigration and accepting refugees.
In addition to raising money, Pearl Jam is encouraging fans to volunteer their time to help. Pearl Jam has included a list on its website of charities in need of volunteers.
See the remainder of Pearl Jam's North American tour dates below. Get more information here.
Pearl Jam U.S. 2018 Tour Dates
Aug. 10 - Seattle, WA @ Safeco Field
Aug. 13 - Missoula, MT @ Washington-Grizzly Stadium
Aug. 18 - Chicago, IL @ Wrigley Field
Aug. 20 - Chicago, IL @ Wrigley Field
Sept. 2 - Boston, MA @ Fenway Park
Sept. 4 - Boston, MA @ Fenway Park
Sep. 29 - Ohana Festival, Dana Point, CA
Photo: Getty Images