Watch A Brass Band Cover Slayer On Flaming Drums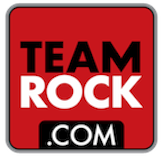 One drum troupe who just might know a thing or two about thrash are What Cheer? Brigade, the 20-piece brass band from Providence, Rhode Island. While brass bands aren't exactly kvlt, the members themselves look pretty metal in their gnarly masks and black facepaint – AND THEY SET THEIR DRUMS ON FIRE.
Yup. They played Slayer's iconic Raining Blood (with added brass) on flaming drums. How metal is that?!

There's no one in the world quite like Nikki Sixx, and there's nothing on the radio quite like his show "Sixx Sense." Each night, he'll be talking about the music and topics on everybody's mind, but filtered through the unique perspective and attitude of someone who has seen it all, done it all, and is still hungry for more. You'll get a backstage look into the world and mind of a rock star. But not just any rock star, Nikki Sixx from Motley Crue. You'll get the inside stories that others are too afraid or ashamed to tell. Nikki will get straight, honest talk from special celebrity guests, bands and friends, no matter how notorious or nefarious. Plus, he'll play all the hottest music in rock. The program airs nationwide Monday through Friday from 7 pm to midnight local time.